Topics: search results, search engine optimization, search index, markup, nofollow, HTTP, landing page, anchor text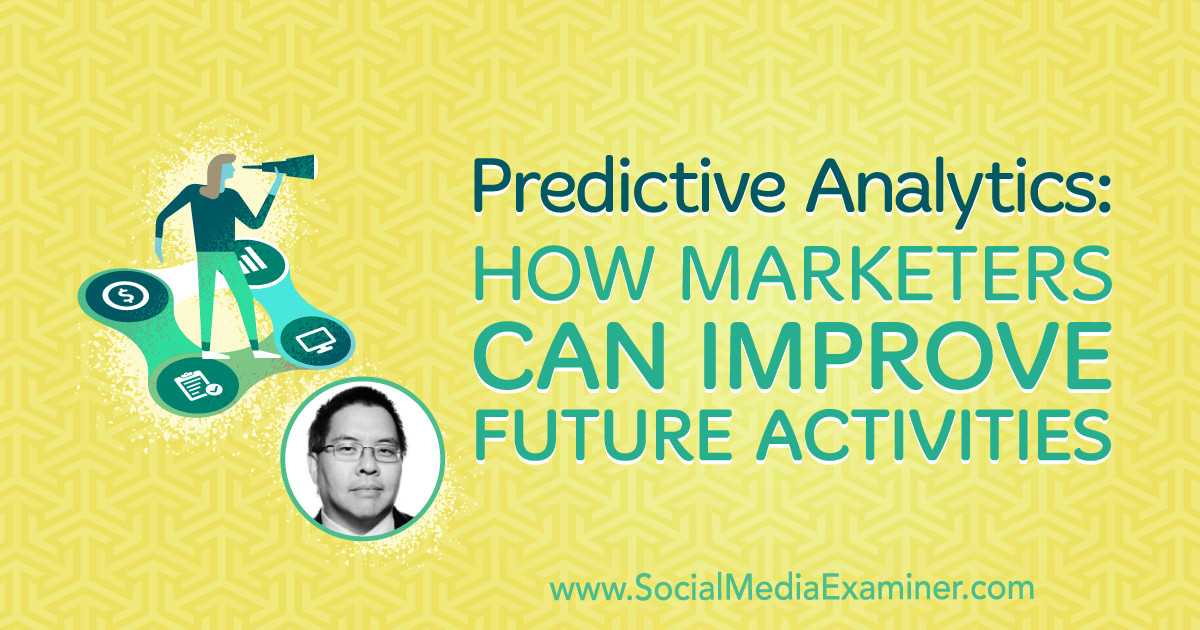 Topics: retargeting, Pinterest, marketing automation, Linkedin, data sources, data science, mobile device, landing pages
For the technically capable business of any size, if you have someone or multiple people who can fill the roles of developer, data scientist, and marketing technologist, you can use predictive analytics to create your own forecasts for free.
Hypothetically, say we gear up our marketing promotions for Social Media Marketing World on certain schedules that aren't necessarily based on predictions, but ones we decided to use.
First, you need someone with the development skills to extract data from your data sources, such as Google Analytics, Facebook Insights, Twitter, and other kinds of social data.
Topics: WordPress, online tools, content marketing, blog posts, Google, social media, social networks, additional tools
The tool comes with alerts for keyword mentions, backlink analysis, keyword research, SEO site auditing, rank tracking, and more.
BONUS TOOL: To be extra safe, I also run potential influencers through another tool called Social Blade to see the influencer's growth trajectory.
It's a task manager tool that's part project management software, part team communication tool, part to-do list.
The 9 Most Common SEO Errors That Hurt Your Rankings [DATA] (searchenginejournal.com)
Topics: search engine, HTTP, meta tags, address bar, landing page, latest version, mobile devices, domain name
Throughout 2017, Serpstat (disclosure: I work for the company) indexed 175 million pages with its SEO audit tool and found a whopping 300 million errors!
Even small delays can cause lower revenue and traffic on your site, so it's important to check your pages' speed performance across all devices.
To avoid these issues, you should check if there's a correct language code and country code (and not to use one without the other); divide the language and country codes with a hyphen; put the country code before the language code.
Enterprise Local SEO is Different: A Checklist, a Mindset (moz.com)
Topics: virtual office, online shopping, business models, pay per click, user experience, small businesses, creative solutions, search engines
We're also prepared to detect when the spammy behaviors of competitors (such as fake addresses, fake negative/positive reviews, or keyword stuffing of listings) are giving them an unfair advantage in our markets, and have a methodology for escalating reports of guideline violations.
Directly-linked-to landing pages can provide instant, persuasive proofs of local-ness, in the form of real local reviews, news about local sponsorships and events, special offers, regional product highlights, imagery and so much more that no corporate homepage can ever provide.
Call me a Californian, but I continue to be amazed by automotive TV spots that show large trucks driving through beautiful creeks (thanks for tearing up precious riparian habitat during our state-wide drought) and across pristine arctic snowfields (instantly reminding me of climate change).
5 Reasons Why Good SEO Is Key to Talent Attraction (inc.com)
Topics: search results, Search Engine, Google, user experience, markup, user interaction, external links, additional information
As mobile traffic increases and as competition gets tougher online, the use of Google Accelerated Mobile Pages, (AMP), schema tags, technical SEO and optimized social signals and external links can all deliver the marginal gains you need to increase the visibility of your careers website.
But instead, investing in good SEO on a careers site means you'll be reducing costs and, importantly, you can keep close control over your candidate experience in the process, with more flexibility to make changes and experiment with content."
Marc comments, "Most careers websites rank much lower in search engines than job boards or recruitment agencies, and as a result, they fail to attract sufficient volumes of prospective candidates looking to change their jobs.
Sell While You Sleep With These 5 Proven Strategies for Getting Customer Reviews That Close Sales (entrepreneur.com)
Topics: search results, Yelp, lead generation, Google, Capterra, social media, software solutions, customer service
So, when a customer is searching for the top painter in town and your website displays, the customer will also see reviews and ratings from your website directly inline on the Google search results pages.
For those doing business face-to-face with clients, asking for the review at multiple phases throughout a transaction may seem easier than those who never actually meet their customers.
If you develop a well-thought-out system you need to ask for reviews and set up your software solutions to do the asking for you, you'll begin to see a wave of new reviews while being able to focus on your business.

How to Promote a Software Product in 2018 (phpclasses.org)
Topics: search engine optimization, search engines, WhatsApp, mobile application, Google, software product, mailing lists, software tools
The good thing about good SEO optimization practices is that they can give site owners free traffic from search engines like Google, unlike using Google AdWords that usually you need to pay a lot of money for getting potential customers to visit your site.
For instance, we created a page about the Best Php IDE Tools that exist on the market, that not only reached the highest rankings in Google search pages for Best PHP IDE query, often it appears as a featured result.
If you are interested to advertise your software product here using our blog and our SEO know-how, you can click here to contact us now and we can even give you free access to the 4DUser tool for a limited period of time.