Blockchain-powered Gagapay solves trust issues between companies and affiliate marketers (thenextweb.com)
Topics: software as a service, SaaS, blockchain technology, cryptocurrency, additional features, smart contracts, beta testing, open source software
The software-as-a-service (

SaaS

) platform uses

smart contracts

for the designing and executing of marketing programs and is complemented by a marketplace for companies to contract with marketers for their campaigns.
G agapay Network will be integrated with

Gagapay.com

(the company is launching this project separately as a ready-made product in Q3 2018 with

prepaid cards

) so as to facilitate the use and spending of

cryptocurrency

rewards for its customers.
The first phase of the

public crowd sale

will open to sell

50 million GTAs

(priced at $0.04 per token) followed by a

second phase

for

440 million GTAs

($0.05 per token).
The remaining tokens from the sale will be distributed as follows: 14 percent for the

company reserve

, 10 percent for the team, 3 percent for the developers, 3 percent set aside for airdropping and

bounty programs

, and 1 percent for the

Gaga foundation

.
'We're really going to feel the vibes': Facebook's F8 attracts marketers wanting answers – Digiday (digiday.com)
Topics: Snapchat, media companies, WhatsApp, digital marketing, Mark Zuckerberg, video chat, enterprise software, augmented reality
This year's gathering should have a less triumphal tone (except for a performance by Logic), as the

tech company

grapples with pushback from the rise of

fake news

, its pivot away from media in its

news feed

and its

data privacy scandals

.

Parker Ray

, head of digital at

MWWPR

, said he expects Zuckerberg's acknowledgment of the

Cambridge

Analytica

scandal to come early to emphasize the importance, but also to "get it over with." However,

Facebook

's

chief security officer

Alex Stamos

will host a session titled "Security at Facebook Scale" following the keynote.
But a

major video publisher

on

Facebook

said it hadn't faced such drastic changes and that it's still seeing success by natively publishing video on Pages and for

Facebook Watch

.
Of course,

data privacy

is something that's scrutinized at the company, so businesses may be less willing to give the

social network access

to more of their information.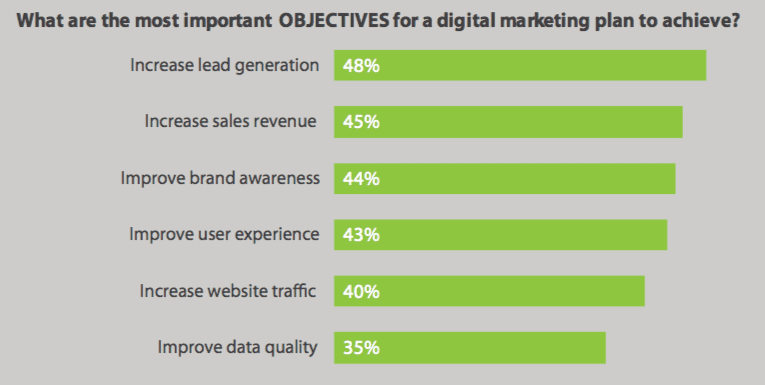 Setting the right digital marketing objectives (smartinsights.com)
Topics: user experience, lead generation, digital marketing, Digital, Ecommerce, conversion funnel, goal setting, specific objectives
It's useful to be clear on the difference between vision vs goals vs objectives vs KPIs as the

measurement pyramid

relating them shows.
With long-term digital marketing initiatives and transformation projects, the same is true, so it's essential that your digital marketing strategy features clear, SMART marketing objectives so that you have targets you can review performance against.
According to the research, the most important goals relate to

lead generation

(relevant to companies who don't sell online who are focused on lead generation) and

online sales revenue

(for those that do).
Disney Digital to launch an over-the-top video app for millennials, as it woos advertisers burned by YouTube (techcrunch.com)
Topics: Youtube, Netflix, Disney, Facebook, podcast, streaming video, fan film, millennials
The ad-supported app comes from

Disney

's

editorial brand

, Oh My Disney, and will feature Disney

social content

and other short-form video programming from Oh My Disney as well as

Disney Digital Network

's editorial voices and

Maker creators

and partnerships, the company says.
In addition to the

new video app

, DDN announced its

newest brand

,

Disney

Eats, which will celebrate the food served at Disney parks – some of which has developed a cult following of its own, like

Dole

Whips.
DDN also unveiled a slate of new series and other digital programs, including the new

Disney Eats x Tastemade

content, a

new Oh My Disney podcast

, a returning Club

Mickey mouse

, and others across

Disney Style

(a

Facebook

Watch show), Babble, and

Disney Family

.
5 Things CMOs Need To Know About Blockchain And Influencer Marketing (forbes.com)
Topics: social media, cryptocurrency, network effects, Content sharing, Telegram, driving force, quality content, high fees
Online educators and creators need to have a

sustainable livelihood

, but more importantly, that livelihood needs to be secure, fast, and sustainable — and crypto-marketing which is defined as "the process of understanding what a customer values so well that it can be embedded into a crypto-

token protocol

, which will appreciate in

customer utility

as

network effects

take a hold spurred on by organically incentivized word-of-mouth" and

cryptocurrency

just may be the answer.
Companies like AC3 are recreating the

online creator marketplace

by partnering with

online educators

and influencers on their own platform, but in a brand new way.
In contrast to traditional brand building — idea, design, product, marketing and brand — in the

crypto space

, the road map is to establish followers with heavy marketing of idea, and then design and build for the pre-existing user base.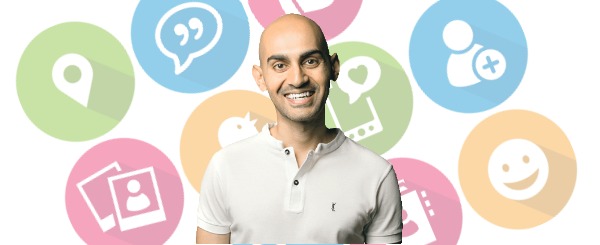 Neil Patel on Digital Marketing Basics, Content Building, and 2018 Trends (earlytorise.com)
Topics: Snapchat, Linkedin, online marketing, WordPress, Reddit, Quora, Twitter, social network
We'll get to that surprising origin story in a moment, but for now, you should know one thing about Neil: He's second-to-none in the world of digital marketing, and has clocked millions in profits for

multinational corporations

like GM and

Microsoft

.
You can't do everything at once as a startup because you don't have enough time, so try out different platforms and see what resonates with your

ideal customer

.
Their algorithms consider how often your brand is searched, how many backlinks exist from

external sites

to your own, how many comments are on your site, how often people visit and what they look at, etc.
It's tracking how many times people read or engage with your content; how long they stay on your site; what other kinds of content they're reading; and if they're sharing or commenting on that content.
12 inspiring digital marketing case studies prove ROI (barnraisersllc.com)
Topics: Snapchat, web traffic, content marketing, lead generation, social media, Twitter, digital marketing, customer experience
Clean & Clear's Snap Ads and

Filters

campaign generated an 11.2% lift in

Aided Awareness

(5.5X higher than

Millward brown

Norms) and a 7% lift in

brand favorability

(3.5X higher than

Millward Brown Mobile Norms

).
Compared to its

normal sales emails

the

infographic

achieved a 96% lift in

email revenue

, while on

Facebook

the post that featured the graphic had more than 2,000 interactions compared to an average of 10.Overall

HCCMIS

's

blog post

featuring the graphic achieved

3.9m views

, of which 90% were new visitors.
KLM: Noticed, from one of its employees, that a lot of people were asking about

social payments

, so they spoke to KLM's IT and

accounts teams

to see if it was possible to set it up.This resulted in a new social payments tool, which cost €3,500 to setup and now takes €80,000 per week in sales.
Mann Family Dental saw a: 1) 270% increase in

web traffic

2) 10X increase in leads and a 3) 50% increase in patients generated from the website.